Integrity, Discrete, Thorough
and Reputable
Do you suspect your spouse of having an extramarital affair? Learn the truth.
Have you lost contact with a loved one? Get back in touch with your missing person.
Do you believe your phone is tapped? Secure peace of mind.
Are you suspected in a crime and need help to prove your innocence? Get the evidence you need.
Do you feel you need expert personal security? 1st Class Investigations can help!
New York Private Detectives with experience and dedication
If you are looking for a solution to your problem, if you are seeking the answers to the questions gnawing at your insides, if you want the truth that seems just out of your reach, take the next step - Call us toll-free 1-866-357-4769. Private Investigators New York
The solution you've been looking for:
Missing Persons / Find People Missing Valuables and Property
Executive Protection Marital Infidelity / Cheating Spouse
Industrial Espionage / Bug Sweep Harassment
Criminal Investigations Homicide / Suicide
Surveillance / Security Unsolved Cases
1st Class Investigations specializes in executive, corporate and celebrity protection; background checks; finding missing persons; premarital screening; harassment prevention; marital infidelity surveillance; and electronic counter surveillance protection.
| | |
| --- | --- |
| | The proof you need to give you piece of mind. |
| | The executive protection you need to make you feel safe. |
| | The evidence you need to re-open an un-solved case. |
| | Your office, boardroom and telephone free of unwanted eavesdropping devices so you are confident your meetings are secure. |
| | We find important people missing in your life - giving you answers to questions about your missing person. |
Private Investigators with a connection to New York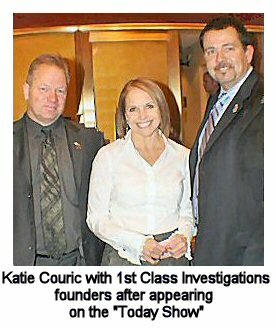 1st Class Investigations, Inc., was founded by a retired Captain & Lieutenant from the New York City Police Department. Together with a team of experienced agents, all former NYPD supervisors, detectives and officers with knowledge and experience from the streets of New York not a two month P.I. course.
1st Class Investigations has been helping New York residents for over ten years. Our goal is to provide you with the best private detective service and to get the results you seek. Our team of experienced agents have produced some very impressive results for our clients and we expect to accomplish the same for you. We sincerely hope you will find this website informative and useful.
Bonded, Licensed, Insured, Discreet & Ethical
In a town like New York City, it's easy to get lost in the tabloids and gossip columns, 1st Class Investigations have built a reputation of integrity. By law, a private investigator is not allowed to share your information with anyone. All cases will be conducted in a legal and ethical manner, gathering evidence in such a way that it can be presented in court if necessary.
Unlike a larger private investigation company, you won't get lost in the shuffle; we will give you our undivided attention. You will speak to a live person; your case will be given the personal priority it deserves. Although you may be dealing with a difficult situation, we believe dealing with a private investigator should not be painful like root canal. When you call 1st Class Investigations, you will feel like a big brother is helping you out.
By the time you've decided to hire a private investigator, you've probably exhausted your confidence; you may even believe your situation is hopeless. We can help.
When you discuss your specific situation, we will listen to you carefully, discuss your options and offer you a detailed course of action we believe will help your circumstance. Our consultation is completely free of charge and you can have peace of mind knowing your consultation is strictly confidential. Your trust is the first step to solving your difficulty.
Quality Client Service

with Understanding
Whatever the circumstances, clients always receive the right combination of ability, experience and efficiency. Clients who choose the private investigators of 1st Class Investigations receive the following:
| | |
| --- | --- |
| | Toll-free access at 1-866-357-4769 |
| | Emergency service and flexible office hours |
| | Free initial consultations |
| | Affordable fees in writing - credit card payments accepted |
| | Personal care and attention by an experienced New York Private Investigator |
| | We will fight for you. |
Each case is handled on a individual basis with professional regard devoted to all phases of the investigation. We fully understand the gravity and importance that your case deserves and we are determined to provide you with the best quality service.
Private Investigators of New York with a Reputation for Excellence
1st Class Investigations has been recognized as one of the best NY private investigator firms, based on the experience, professionalism, and ethics of its dedicated agents. 1st Class Investigations is a full service licensed private detective agency, with headquarters in New York, NY and Scottsdale Arizona. Investigators nationwide. We have helped clients in New York, New Jersey, Connecticut and around the country including the communities in Westchester, Rockland, Fairfield counties and New York City - Private Investigators New York.
If you are looking for an experienced Private Investigation agency, call us today to schedule a consultation. We are confident you will be satisfied with our professional service.
1st Class Investigations, Inc.


Licensed by NYS Dept. of State / Insured